Timothy Matisziw, Ph.D.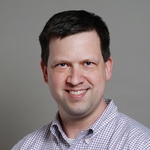 ---
Associate Professor
Office: 5 Stewart Hall
Phone: (573) 882-1423
Email: MatisziwT@missouri.edu
Lab URL: http://web.missouri.edu/~matisziwt/index.htm
Home Department: Geography
Concentration: Geoinformatics
Education: PhD, The Ohio State University
Bio
Dr. Tim Matisziw is an Associate Professor at University of Missouri-Columbia (MU) with a joint appointment in the Department of Geography, Department of Civil & Environmental Engineering, and Informatics Institute. He is also the Director of the United States Geospatial Intelligence Foundation (USGIF) accredited Geospatial Intelligence Certificate program (graduate and undergraduate) at MU. He regularly teaches courses in geographic information systems (GIS), transportation geography, location analysis and site selection, and the geospatial sciences in national security. His primary areas of interest and expertise include transportation systems, spatial optimization, geographic information, and spatial decision support systems.Dr. Matisziw has led research teams in a wide range of areas such as infrastructure interdiction and vulnerability assessment, network design and performance modeling, target identification and tracking, modeling complex systems, facility siting, among others. The primary focus underlying much of his research activities is the study of networked systems. Whether these systems are comprised of built, social, environmental, chemical, or biological components, it has long been recognized that relationships between the components can be represented as networks. However, the complexity of these networks can present enormous challenges in the characterization of a system. To address these challenges, Dr. Matisziw's research has worked to develop spatial optimization models that exploit the network structure of these systems to extract geospatial relationships of potential importance.His work is funded by the National Science Foundation, the Environmental Protection Agency, the Robert Wood Johnson Foundation, and the Missouri Research Board. Internationally, he maintains professional membership and is active in Sigma Xi, Association of American Geographers, Regional Science Association International, and the Institute for Operations Research and the Management Sciences.