Gordon Springer, Ph.D.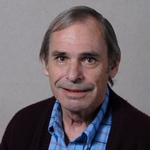 ---
Associate Professor
Office: 115 Naka Hall
Phone: 882-7422
Email: springer@missouri.edu
Lab URL: http://umbc.rnet.missouri.edu/
Home Department: Electrical Engineering and Computer Science
Concentration: Bioinformatics
Education: PhD, Pennsylvania State University
Bio
Gordon K. Springer is an associate professor in the Computer Science Department at the University of Missouri Columbia as well as scientific director of the UM Bioinformatics Consortium, a UM system-wide resource that facilitates intercampus communication and bioinformatics research collaborations. Springer also serves as MU director of Research Support Computing for Information and Access Technology Services, MU campus computing organization. Additionally, he is a resident faculty member in the Bond Life Science Center. A former director of graduate studies for MU computer science department, Springer has worked since the late 1980s with the MU Molecular Biology Program and in the Life Science Center to develop and support computer systems and software required to carry out various research projects that need computer analysis of biological data. He has received research funding from such institutions as Cisco Corp., the National Institutes of Health, the National Library of Medicine, the National Science Foundation and Monsanto Co.