Mission Statement
The purpose of the IDSIGSO shall be to promote and further professional and social relationships among the members of the IDSIGSO, the faculty and staff of the Institute for Data Science and Informatics (IDSI), basic science, and other engineering and healthcare professionals, and to further the knowledge and professional development of all members of the IDSIGSO within the engineering and health care industries.
View All Events
GSO Officers
Humayera Islam
President
"I aspire to become a "leader" who emphasizes the importance of people and a collaborative working environment that involves effective communication and active listening."
Humayera Islam is a doctoral student in the MU IDSI with a concentration in health informatics. She aspires to make a difference in the informatics student community by serving as a President to the GSO. She envisions creating new scope for the IDSI students for fostering collaboration and networking and professional development. While she expects to gain leadership experience crucial to her career development, she also wants her skills to be congruent and valuable to further the mission and vision of IDSIGSO.
Butros M. Dahu, MBA, MS, PhD Candidate
Vice President
"I am a hardworking, dedicated multitasker who adapts to new environments, challenges, and instruction very quickly; and I have learned that to demonstrate leadership skills an outstanding leader is an outstanding team member."
Butros Dahu is an enthusiastic, analytical researcher and health informatician working in the area of healthcare management, biomedical and health informatics. Mr. Dahu is a PhD candidate in MUIDSI with a concentration in health informatics at the University of Missouri. He believes that leaders are those who can influence and empower others. He is eager to use all his knowledge and leadership skills to pursue the mission and vision of IDSIGSO. He seeks to make a difference in the informatics community by serving the MUISDI informatics students as a Vice President to the GSO.
Khuder Alaboud
Treasurer/Financial Contact
"I believe in leading with integrity, making a positive difference, and remaining good-natured. Aspiring to be a leader who can inspire and motivate others to lead healthy and balanced lives and encourage everyone to reach their full potential."
Khuder Alaboud is a doctoral student in the MUIDSI with a concentration in health Informatics. As treasurer for the GSO, he believes that it is hard to reach the pinnacle of what GSO can do without a solid team and good financial support. For fun, Khuder occasionally enjoys outdoor activities such as cooking and bicycling during nice weather with family and friends. So, he hopes to bring these fun outdoor activities to the GSO community.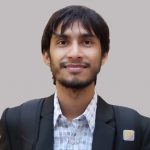 Solaiman Khan
Secretary
"I believe leadership is a process of social/institutional influence, which maximizes the efforts of others towards the achievement of a goal. I am a dedicated researcher who aims to build an excellent research career and influence other people to be successful in achieving their goals by facilitating such an academic environment."
Solaiman Khan is a PhD student in the MUIDSI with a concentration in Geoinformatics. He has a bachelor's degree in Urban and Regional Planning and a master's degree in Geography and Planning. As the Secretary of GSO, he will advocate, serve, and represent the graduate student body in encouraging diverse collaboration, increasing the sense of community, and expanding institute outreach. He believes that together as a community, MUIDSI can actively work to ensure that all students have a supportive educational environment and an excellent network that will help them for graduate study and future careers.
Chi-Ren Shyu
Faculty/Staff Advisor
MU IDSI GSO plays a key role in representing students, organizing the Missouri Data Science & Informatics Annual Symposium, and collaborating with the Institute's faculty and staff to build a welcoming climate for all trainees through social events. It has been my great pleasure to serve as IDSI GSO's faculty advisor since the inauguration of the PhD program and am looking forward to the continuation of the great tradition with expansion to our MS Data Science & Analytics program.